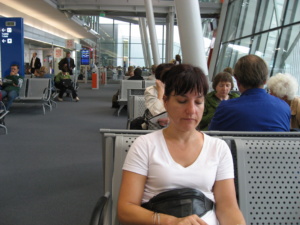 Natalia Buchok and I started our journey on August 28th, on a 6:30 LOT airlines flight out of Toronto, and landed in Warsaw early in the morning on the 29th. The food served on the flight was surprisingly not bad. Chicken with rice, a sandwich, wine, coffee, a chocolate bar. The woman in front of my was annoying. She put her chair back as far as it would go, hitting my knees, and then she kept on bouncing on it, I guess trying to soften up the pillow. The boy behind me kept getting up (pulling Natalia's hair as he did so) and kept bumping the back of my seat and opening and closing the window. Made for difficult sleeping. They served us a bun and cold cuts and cheese for breakfast.
Our LOT connecting flight to Odessa was delayed 45 minutes. The security in Warsaw was ridiculously slow. Everyone going through beeped. Once we were past security, we found a bathroom (very clean) and I bought a bottle of water, which was 5 euros (approx $7.50 Canadian)!!
There was no announcement about why the flight was delayed or where to go but we kept on looking for announcements and watching other people to see what they were doing. We were finally checked through and put on a shuttle bus in the pouring rain instead of the plane. A man came out of the plane and told us there were technical problems and they'd soon be resolved.
We finally got on. I had a seat to myself but Natalia had to sit beside this whacko American who was "meeting his bride" in Odesa. This was the third time for him trying this. The guy had no social skills and seemed to be checking out Natalia in case bride three fell through. As soon as the seat belt sign went off, she changed seats and sat beside me.
We did manage to sleep a bit and they gave us another meal – bread, cheese, meat, and a chocolate bar.
Here's a photo of the Warsaw airport as we waited: