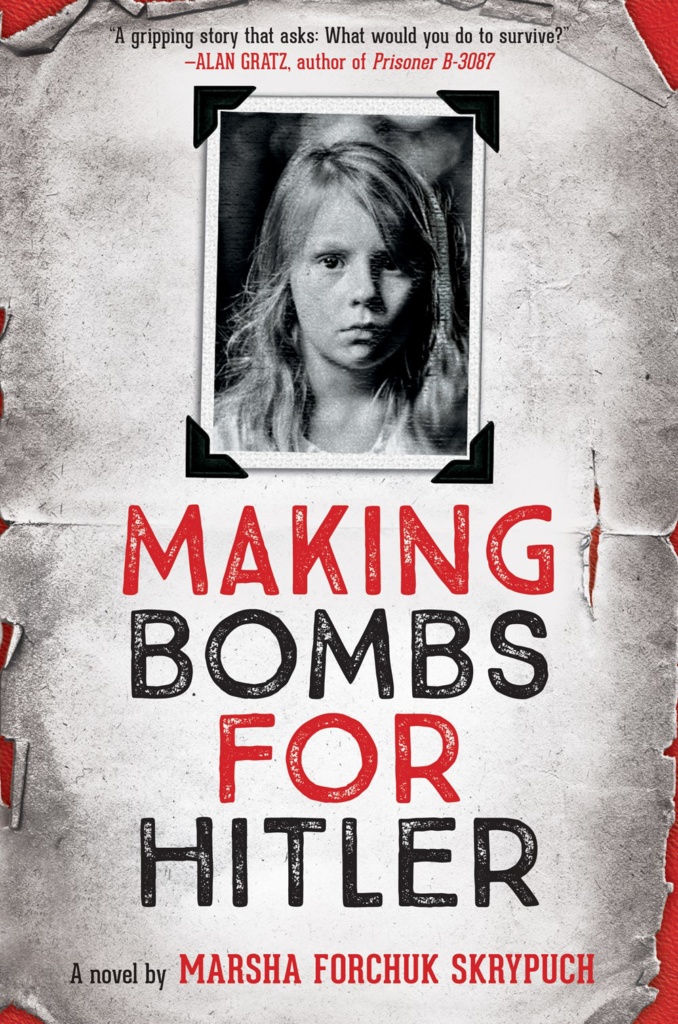 Lida thought she was safe. Her neighbors wearing the yellow star were all taken away, but Lida is not Jewish. She will be fine, won't she?
But she cannot escape the horrors of World War II.
Lida's parents are ripped away from her and she is separated from her beloved sister, Larissa. The Nazis take Lida to a brutal work camp, where she and other Ukrainian children are forced into backbreaking labor. Starving and terrified, Lida bonds with her fellow prisoners, but none of them know if they'll live to see tomorrow.
When Lida and her friends are assigned to make bombs for the German army, Lida cannot stand the thought of helping the enemy. Then she has an idea. What if she sabotaged the bombs… and the Nazis? Can she do so without getting caught?
And if she's freed, will she ever find her sister again?
This pulse-pounding novel of survival, courage, and hope shows us a lesser-known piece of history — and is sure to keep readers captivated until the last page.

Reviews
"A gripping story that asks: What would you do to survive?" — Alan Gratz, author of Prisoner B-3087
Kirkus Reviews 2016-11-02: Employing a close third-person narration, Ukrainian-Canadian author Skrypuch draws on real-life stories of survivors in telling Lida's poignant tale, and she creates a cast of young people who are devoted to one another in both thought and deed. She also sheds light on history emerging since the dissolution of the Soviet Union: Ostarbeiters ("eastern workers"), mostly from eastern Ukraine, who were persecuted by both the Nazis and, later, Stalin, if they attempted to return to their homeland after the war. A well-told story of persistence, lost innocence, survival, and hope. (author's note) (Historical fiction. 10-14)
School Library Journal 12/01/2016: Students will admire Lida's pluck amid such heinous conditions. Scenes of the labor camp convey the horrors without graphic description. VERDICT An absorbing read about the lesser-known Ukrainian experience during World War II, this is a solid choice for curricular ties and for middle school historical fiction collections.—Julie Shatterly, W. A. Bess Elementary School, Gastonia, NC
From Kissthebook: Essential. "Skrypuch adds some interesting new details to my personal knowledge of life in a labor camp – including using young children as involuntary blood donors for the troops."
VOYA, February 2017 (Vol. 39, No. 6) Skyrpuch has written a gripping, emotional novel of one Ukrainian girl's perseverance during the horrors of war. Lida's strength evokes empathy in the reader. While the language and vocabulary are written for all levels of readers, this does not hinder the power of the novel. At times, Lida seems mature for her age, but the circumstances of war age a person. Secondary characters are well portrayed in relation to Lida's journey, making the novel all the more engrossing. This is a vivid picture of what youth experienced during World War II and the hopelessness of displaced populations of all backgrounds and religions. This is a strong purchase for libraries to add to their historical fiction collections. Reviewer: Laura Panter; Ages 11 to 18.
Booklist, December 15, 2016:  Lida's story is compelling, and her first-person narrative captures her transformation from a fearful child to a strong, determined young adult. Skrypuch describes the camp in vivid detail, and an author's note provides some additional background about Soviet children forced into labor camps during WWII.  Inspired by real, historical accounts, this is a powerful, harrowing story of transformation. Donna Scanlon