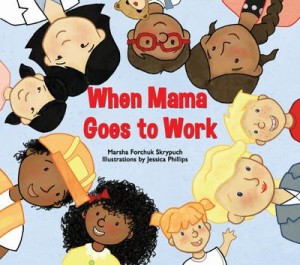 When Mama Goes to Work follows several children and their working mothers as they move through their day. From morning to night, through the daily activities of work and play, children and parents keep each other in their thoughts even when they are apart.
Both children and parents will relate to the routine of work and play in When Mama Goes to Work. Secure in the knowledge that their mothers will return at the end of the day, confident children enjoy themselves and concentrate on learning and play while looking forward to being reunited with their mothers, when they will discuss their day, help with dinner, and other evening routines.

Excerpt:
When Mama goes to work, she wears her working clothes.
She combs her hair,
She packs a lunch,
She takes her special bag.
When Mama goes to work, I wear my playing clothes.
I comb my hair,
I pack a lunch,
I take my special bag.
Reviews:Rhiannon Jones on CM wrote:
When Mama Goes to Work, written by Marsha Forchuk Skrypuch and illustrated by Jessica Phillips, is a sweet book for young children, one that introduces them to the idea of a working mother. The story features a diverse collection of mothers and their children as they go through a typical working day, from getting ready for the day, to reading stories at bedtime. Since children sometimes suffer from separation anxiety once a mother goes back to work after being home for a while, it is important that a book about working mothers keeps the topic upbeat for children. Forchuk Skrypuch and Phillips do a great job keeping the topic light for a young child.

internal art Since this is a book that would appeal to younger children, the focus is not on a sequential plot, but rather a repetition that seems designed to calm a child. The repetition is particularly strong because young children can begin to see patterns between their day at daycare or school and what their mother does at work. The wording emphasises how much a mother loves and thinks of her child during the day and is very happy and positive. The repetition of "Mama smiles" and "I smile" is a fantastic way to reinforce the idea of a cheerful separation.

The illustrations are especially striking in this book The colours are vibrant with clear lines and varied scenes. This makes When Mama Goes to Work a great language learning tool for really young children. Parents or caregivers can read this book to a young child and point out common items in order to form connections with the child and to increase vocabulary skills. With slightly older children, the illustrations can be used to create personalized stories to which children can connect. Jessica Phillips does a wonderful job of creating cheery images that help keep the book positive since many children suffer from separation anxiety when a mother goes/returns to work.

Another strong feature about this story is the diversity that is featured in both the illustrations and the language. Diversity is expressed through ethnicity and occupations. This book expresses the various occupations available to a woman from doctor and business woman to construction worker. Even the front cover displays this variety well.

Overall, When Mama Goes to Work is a well-written, well-illustrated book for young children. School-aged children may not appreciate this book as they have probably already experienced the issues that young children with working mothers may face. As a working mother with young children myself, I found this to be a great book to share. It opened up a dialogue with my son about what I do when I work and how much I miss him. This book would make a great addition to any children's collection and could work well in a group story-time session with related activities and discussion for toddlers and pre-schoolers.
Myra Junyk on Curled Up With A Good Kid's Book wrote:
As the title suggests, When Mama Goes to Work describes what happens in a family when a mother goes to work. This prospect can be very intimidating both for children and parents alike. However, this heartwarming and inspiring picture book is a good springboard for discussion and perfect to share with the whole family.

Marsha Forchuk Skrypuch introduces readers to several families to show what a typical day is like for them:

When Mama goes to work

She wears her working clothes.

She packs my lunch.

She combs her hair.

She takes her special bag.

The child describes his "playing clothes" as he packs his lunch, combs his hair and gets his special bag ready. In other words, a normal day is full of many ordinary events—even if Mama is at work! Both Mama and her child are busy during the workday. They smile as they get things done.

Even though Mama and her child miss each other, they know that they will be reunited at the end of the day. At home once again, they talk, cook, eat and read books together. At night, the child dreams of being like Mama as a grownup.

Today, working mothers are a reality in many families. Skrypuch's beautiful picture book gives children a glimpse into the daily routine of these families. After reading the text, children will learn about their mother's working day and how their own daily routine is similar. Children will be reminded that their loved ones will return after a busy day to provide love and support.

The illustrations are bright, lively and colorful. They illustrate that families come in many shapes and sizes. However, all children have to deal with being apart from their parents at times. This is the first book for illustrator Jessica Phillips. Her vibrant illustrations will definitely appeal to young children and provide a great tapestry for the ideas presented in this picture book.

Marsha Forchuk Skrypuch is the author of over sixteen picture books and novels for children. Her earlier picture books include Enough, Silver Threads and The Best Gifts. In 2013, she won the Silver Birch Fiction Award for Making Bombs for Hitler and the Red Cedar Award for Last Airlift: A Vietnamese Orphan's Rescue from War.
Brenda Hoerle on The Record wrote:
When Mama Goes to Work, by Marsha Forchuk Skrypuch; illustrated by Jessica Phillips (Fitzhenry & Whiteside, $18.95 hardcover) — It isn't easy being away from your mom when you first start school.

And so the little "love" notes I used to tuck in my children's lunches were a way of reminding them that I was still thinking about them, even though we were apart.

Brantford author Marsha Forchuk Skrypuch captures that touching time in this tribute to working moms and the special relationship they develop with their children.

As more and more women scramble to both raise families and earn a living, many youngsters are left to wonder what their parents do all day.

This book, told from a child's perspective, emphasizes that even though Mom is gone, she will be there for them to hug and cuddle at day's end.

Illustrator Jessica Phillips lives in Calgary.
Horn Book wrote:
Illustrated by Jessica Phillips. The book's title is used as a refrain to show four mothers working in a variety of professional settings while also taking care of their families. Their kids are depicted in school together, mirroring their mothers' experiences and dreaming about their own future careers. Cheerful illustrations expand on the simple story and depict unspoken relationships among the multicultural cast of characters.
Barbra Hesson on Calgary Herald wrote:
This book reaches out to all families with moms in various careers. Showing mom at work, and kids at play, it reminds families that throughout the day, and at the end of the day, there is always a loving connection. Children ages four to six will enjoy this book and moms will enjoy reading it to them.
Laura Reilly on Resource Links wrote:
The cataloguing summary for this book is "Through the lives of several children and their working mothers, this hook shows how families keep each other in their thoughts even when they're far apart.

With simple effective text and ilIustrationsthis book does indeed address the day of a buss family. A number of different family scenarios are described. By comparing the days of the mothers to the days of the children, emotional issues are addressed. How to deal with feelings is addressed also.

"When Mama goes to work, I know she misses me. But she talks with friends and thinks of me, She knows that she'll be back. When Mama goes to work she knows I miss her, too. But I talk with friends and we have fun. I know that she'll be back."

The child understands that both parent and child miss each other. With the knowledge that there will be a happy reunion at the end of the working day and by interacting with friends the message that both can still have fun is conveyed.

The joy of a well written 'simple' book is in the details. The story works its way through the events of a day from morning to night. Rituals are noted. Ideas are inserted in the story: parent and child include little surprises in each other's lunch. Shopping at day's end is a time to exchange information about their respective days. The evening activities are shared. The picture accompanying "We cook and eat" shows mom at the stove while an older child entertains a younger child en route to setting the table.

Illustrator Jessica Phillips art work is pleasing and uncomplicated. There are many details in the drawings that enhance the text. The families are from a variety of cultures. The mothers have a variety of jobs. Although the focus is as the title suggests about Mania going to work a father is shown at day's end shopping with mother and child. Jessica incorporates humour in her illustrations: for the line " We read a book or two." A child shows mother a big stack of books.

This book is recommended for day cares, school and public libraries. It would be a wonderful gift for a child that has a mother returning to the work force. Shared by parents with their children it is a reminder of how each family member can contribute to a positive family life in a busy day.
Kirkus on Kirkus wrote:
Various mothers and children have parallel experiences throughout their days.

Skrypuch treads familiar ground—separation anxiety is a major aspect of childhood development. But this tale isn't full of tantrums or tears; instead, the kids in these families are shining examples of confidence and security. When one mother/child pair is separated, and a slight worry creeps in, the boy, bedecked in red-rimmed glasses, explains, "When Mama goes to work, / I know she misses me. / But she talks with friends / and thinks of me. / She knows that she'll be back." Likewise, he talks with his friends and thinks of his mother at the same time. Another girl hides a surprise in her mom's lunch; her mom does the same for her. At noon, they both think of each other. The repetitious nature and parallel storytelling structure of each mother and child's experiences can seem plodding, but it will likely be comforting to young worriers. Skrypuch follows only four families, but the variety of ethnicities and careers included is commendable, though it's a darn shame that in 2014, the narrative focus is still exclusively on mothers. Sunny, cartoonlike illustrations add to the cheer (disregard the slightly creepy toothy smiles of some).
Midwest Review wrote:
"When Mama Goes to Work" is a cheerful descriptive book for preschool and up children about daily routines of both parent and child when Mama goes to work. Filled with beautiful color illustrations of families with skin tones of black, brown, white, and tan, "When Mama Goes to Work" presents a positive, upbeat attitude towards the experience of separate schedules of mother and child during the day. Both mother and child have prepared for their busy days by wearing appropriate clothes, and packing a lunch in a special bag. Sometimes there is a pleasant surprise in the lunch bag left by mother or child (like a spider toy or a valentine note)! Both mother and child are busy all day long, work with different tools, and get things done. Both smile (this is important). Both think of each other during their day and also miss each other. But the child knows that Mama will be back. The end of the day brings reunion, coming home, changing clothes, cooking, eating, books and reading, and bedtime. The child dreams of growing up and working with tools, being busy all day long, and smiles. One nice touch in "When Mama Goes to Work" is the pictured occupations for the mother, which include doctor, construction worker, and astronaut. Cheery text and happy faces in the illustrations help teach the young child that Mama going to work is a good thing, and an adult goal to aspire to.